TÜV
In this field we carry out more than 10,000 tests on various pressure vessels every year. On the one hand, this involves conventional TÜV testing on steel, composite and aluminium cylinders with a volume of 0.3 – 80 litres.
This includes the:
Dismantling of the equipment (with possible pre-drying and de-oiling) such as valves + feet + trays and bridges
internal jet cleaning, if required by TÜV – to clean or remove corrosion of the inner surface
Water pressure test with subsequent fabric air drying
Approval by an employee of TÜV-Berlin/Brdbg. … and logging
Assembly of the pressure vessels with valve and equipment
Sealing of the embossed areas and the application of an identification mark for the next TÜV.
Additional services in the form of ultrasound examinations and crack-free tests are just as possible as the subsequent filling of the bottles with air 200 and 300 bar via our certified Bauer Pure-Air filling system as is the receipt of nitrox mixtures.
On the other hand, we are able to test composite cylinders with the 2 at 80 liters. Here the pressure test is carried out in specially developed water-jackets with subsequent air drying and application of the test adhesive.
&nbsp
&nbsp
Our next TÜV dates:
20.08.2020
19.11.2020
Internal blasting
Since the 1990s, the TTB has had a facility approved by TÜV Berlin-Brandenburg and approved for the internal blasting of steel and aluminium cylinders. This enables us to remove impurities in the form of iron and aluminium oxides (commonly known as rust) as well as light oiling within a few minutes. The blasting material used here is guided and cleaned in a closed system. A continuous axial and linear movement of the blasting head guarantees a uniform blasting process and thus a uniformly cleaned surface.
In the following pictures we see a two-part cutaway model. The internal condition before and after internal blasting is clearly visible. On the left the pressure vessel with completely corroded surface, on the right the same vessel after cleaning.
The metallically clean surface produced by internal blasting enables us to work with an additive which is added to the test medium water. With "OmniCOR 338" a largely stable corrosion-free condition inside the tank is achieved.
In contrast to the roller burnishing of bottles, the blasting process produces a one-to-one image of a possible damage pattern. Craters, cracks or spot corrosion are made clearly visible in contrast to other methods and enable the TÜV expert to make an exact assessment of the internal condition of the bottle or container.
Translated with www.DeepL.com/Translator (free version)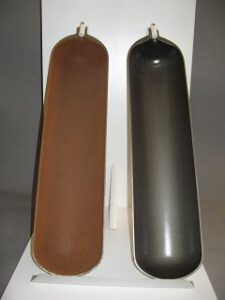 External rays
By using a modern blast wheel blasting machine, Tauchertechnik Brandenburg is able to process parts up to a size of 600 × 600 × 400 mm or dm 900 × 400 mm. Different blasting media allow a surface quality required for the respective product.
Bottles that are to be repainted or powder coated in the course of a TÜV inspection are also processed with this procedure, as are all other necessary paint stripping and rust removal work.
Paintwork
The primers and varnishes used are determined by the type of stress and by the customer's specifications. These are mainly 2-component zinc primers and 2-component top coats based on polyurethane or acrylic. These top coats can be applied both as hammer finish and as smooth finish in all standard RAL colours. Their insensitivity to solvents, chemicals, coolants and hydraulic oils as well as their robust, elastic, abrasion-resistant and scratch-resistant surface are therefore suitable for many applications.
Powder Coating
In addition to the conventional painting of components and containers, Tauchertechnik Brandenburg offers another coating process – powder coating.
This process uses epoxy or polyester resins in powder form. These are statically charged and then dry around the (necessarily) electrically conductive material. At temperatures between 140°C and 200°C the powder fuses on the surface. An impact-resistant, approx. 0.15 mm thick protective layer is created.
Valve Repair and Fitting Service
In addition to the processing of the pressure vessel in the form of TÜV testing and painting, we also rework the fittings/valves carried along. Among others, the valves of the following companies are revised:
Auer
Barthel & Rieger
Dräger
Interspiro
The scope of services includes dismantling, cleaning, fitting with new parts, assembly and the subsequent leak test.
Please ask our office for the prices for the revision of the different models.
Of course, we also carry out checks, replacements and overhauls for pressure gauges, safety valves, control valves and shut-offs of other types.